Type Image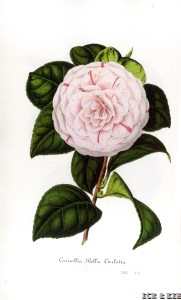 Chosen by Gianmario Motta
Id:ICR-1253
Country:Italy
Year Published/Registered:1860
Cultivar Type:For Ornamental
AGM Type:
Scientific Name:Camellia japonica 'Bella Carlotta'
Species/Combination:C. japonica
Chinese Name:
Japanese Name:
Meaning:
Synonym:
Bella Carlota Real Companhia Horticolo-Agricola Portuense Catalogue, No.29, 1985-1986, p.44. Orthographic error for Bella Carlotta.
» English Description
Verschaffelt 1860, Nouvelle Iconographie,, Book II, pl.III: We acquired this variety from one of our Italian correspondents in 1859. The blossoms, rather small, of flawless imbricated form, are white tinged a delicate pink, with a few vivid crimson bands and stripes. The petals are round, full and imbricated. Orthographic error: 'Bella Carlota'.