Type Image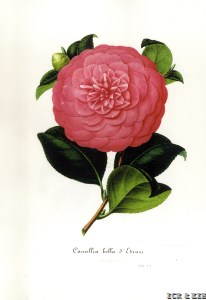 Chosen by Gianmario Motta
Id:ICR-1255
Country:Italy
Year Published/Registered:1851
Cultivar Type:For Ornamental
AGM Type:
Scientific Name:Camellia japonica 'Bella d'Etruria'
Species/Combination:C. japonica
Chinese Name:红绒风车
Japanese Name:
Meaning:
Synonym:
Bela d'Eturia Mercatelli Catalogue,1881. Orthographic error for Bella d'Etruria.
Bella d'Eutruria Jean Verschaffelt fils, 1864, Price List No.1, p.4. Orthographic error for Bella d'Etruria.
Hongrong Fengche Gao, Jiyin, 2007, The Identification....Outstanding Camellias, p.413; Chinese synonym for the Italy C.japonica Bella d'Etruria.
» English Description
Luzzatti, 1851, Collezione di Camelie, p.7: Magnificent flower, imbricated in a spiral, light cherry red, with the circumference a little darker and the centre lined with white. de Jonghe, 1851, Traité de la Culture du Camellia, p.97: Said to have originated in Pisa, Italy, 1849. Large double, imbricated flower, outer petals deep red, paler to the centre and shaded with white stripes. Verschaffelt, 1854, Nouvelle Iconographie, Book III, pl.I: Mr Luzzatti of Florence, Italy sent this drawing of his camellia. It is conspicuous for its large blossoms (at least 11 cm across) of vivid carmine rose colour, with broad, white stripes towards the centre. Petals are numerous, imbricated, outspread, fully rounded, bilobate, at the centre they are lanceolate, obtuse, even acute. The whole blossom forms a covex discus. Orthographic variant: 'Belle Etruria'. Orthographic errors: 'Bela D'Etruria', 'Bella d'Eturia', 'Bella d'Eutruria'.
» Chinese Description
红绒风车 Bella d'Etruria 高继银、苏玉华、胡羡聪,2007. 《国内外茶花名种识别与欣赏》,第37页。意大利Pisa地区和Florence地区的品种,培育人不详花深草莓红色,有绒质感,花瓣呈旋转状排列,完全重瓣型,中到大型花,花瓣贝壳形,顶部圆或者略尖,瓣面有无数有序排列的深红色脉纹,花心有几个直立的小花瓣,花量中等。叶片淡绿色,大而厚实,植株中等开张,生长旺盛。花期中。