Type Image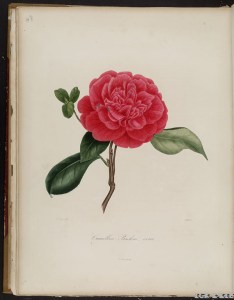 Chosen by Gianmario Motta
Id:ICR-1995
Country:United Kingdom
Year Published/Registered:1840
Cultivar Type:For Ornamental
AGM Type:
Scientific Name:Camellia japonica 'Bucksii Vera'
Species/Combination:C. japonica
Chinese Name:
Japanese Name:
Meaning:
Synonym:
Bucksii Berlèse, 1840, Monographie, ed.2, p.228. Synonym for Bucksii Vera.
» English Description
Berlèse, 1840, Monographie, ed.2, p.109: Leaves 4-5 cm wide by 9 cm long, lanceolate, very acuminate, surface rough, obscure serrations, of a dark green, similar to Woodsii; bud, large, obtuse with whitish scales; flower over 10 cm across, full. orange-red; exterior petals 2.7 cm wide, round, in four rows, veined a vivid dark red, the others reflexed, well notched, and imbricated with more or less regularity; those at the centre are short, numerous and twisted into various forms, fasciculate and forming a depressed rosette. Originated in England. For illustration see pl.47, Berlèse, 1841, Iconographie, vol.1.