Type Image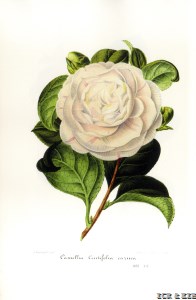 Chosen by Gianmario Motta
Id:ICR-2474
Country:Italy
Year Published/Registered:1853
Cultivar Type:For Ornamental
AGM Type:
Scientific Name:Camellia japonica 'Centifolia Carnea'
Species/Combination:C. japonica
Chinese Name:
Japanese Name:
Meaning:
Synonym:
Centifoglia Carnea Medici Spada, 1857, Catalog nel Giardino a Villa Quiete, p.9. Orthographic vari­ant for Centifolia Carnea.
» English Description
Luzzatti Catalogue, 1853; Verschaffelt, 1855, Nouvelle Iconographie, Book I, pl.II: It came to us from Florence in 1853. Its blossoms, larger than average, are composed of large, rounded petals, upright, imbricated, hooded, entire or slightly emarginate, of a delicate flesh pink colour with pale carmine stripes here and there, the central petals more com­pact, ruffled and arranged like a tea rose.