Type Image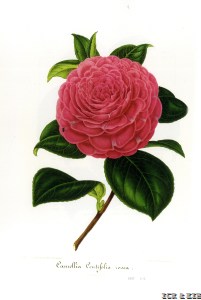 Chosen by Gianmario Motta
Id:ICR-2475
Country:Italy
Year Published/Registered:1851
Cultivar Type:For Ornamental
AGM Type:
Scientific Name:Camellia japonica 'Centifolia Rosea'
Species/Combination:C. japonica
Chinese Name:
Japanese Name:
Meaning:
Synonym:
Centifoglia Rosea Medici Spada, 1857, Catalogo nel Giardino a Villa Quiete, p.9. Orthographic vari­ant for Centifolia Rosea.
» English Description
de Jonghe, 1851, Traité de Culture du Camellia, p.100: Large size, imbri­cated, pink striped white. Flower the form of Centifolia Alba. Luzzatti, 1851, Collezione di Camelie, p.10: Rose colour, stained white, equal in form to Centifolia Alba. Verschaffelt, 1857, Nouvelle Iconographie, Book I, pl.II: Cherry red, striped white. As in the hundred petalled rose, the petals of the first rows are very ample, outspread, curved in; the others are upright and grouped in a compact heart. A few white stripes interrupt the uniformity of the general colour­ing. Originated by Bourturlin, Italy. Orthographic error: 'Centifoglia Rosea'.