Type Image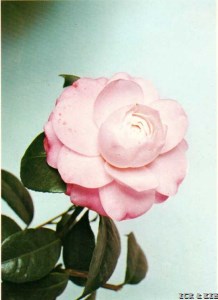 Chosen by wangzhonglang
Id:ICR-4106
Country:United States
Year Published/Registered:1970
Cultivar Type:For Ornamental
AGM Type:
Scientific Name:Camellia japonica 'Doris Ellis'
Species/Combination:C. japonica
Chinese Name:朵莉丝爱丽丝
Japanese Name:
Meaning:
Synonym:
Ailisi Shao, Taichong, 1992, The Observations from the Camellia World, p.72, No.212. Chinese synonym for the USA C.japonica Doris Ellis.
» English Description
American Camellia Yearbook, 1970, p.162, Reg. No.1089: An 11 year old chance seedling that first bloomed 1963; originated by Frank Ellis and Jay W. Ellis Jr., Jacksonville, Florida, USA. Plant growth is upright, average in density and rapid in rate, with small, light green leaves. The formal double bloom is pale, blush pink with darker pink on the outer petals and a distinct, coral rose centre. Medium size, formal double, completely imbricated with a small, rose-bud centre, 9.5 cm across by 4 cm deep with 94-110 petals. Blooms early. Sport: Doris Ellis Pink. See colour plates on front cover, ACS, The Camellia Journal, Sept.1969 and pl.44, p.34, Encyclopedia of Camellias in Colour, vol.II, 1978. Chinese synonym: 'Ailisi'.
» Chinese Description
朱國棟、蔡燦玉,2011. 《台灣茶花族譜》,p.75.
Doris Ellis 朵莉丝爱丽丝 (C. japonica) 红山茶。1970,美国佛罗里达州 Jacksonville,Frank Ellis & Jay W. Ellis Jr.培育选出。11年自然实生苗,初花1963年。完全形、淡粉、浓粉边、中心基部珊瑚粉色、中轮(8〜9.5x3〜4cm)、花瓣约90〜110枚、花期12〜2月,树性直立、浓密、长势强。突变种:Doris Ellis Pink。