Type Image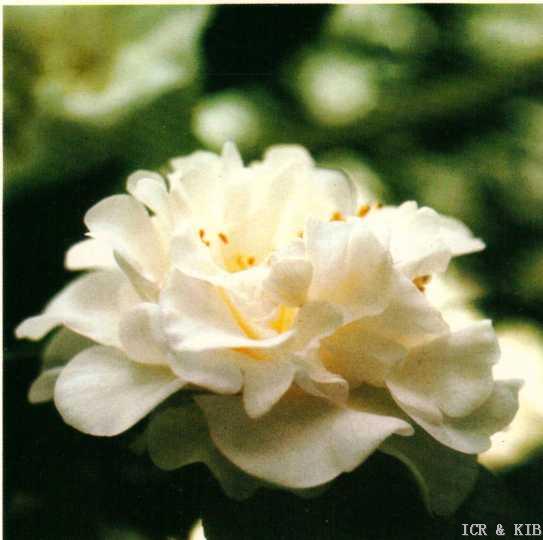 Chosen by wangzhonglang
Id:ICR-4697
Country:United States
Year Published/Registered:1942
Cultivar Type:For Ornamental
AGM Type:
Scientific Name:Camellia japonica 'Elizabeth Boardman'
Species/Combination:C. japonica
Chinese Name:白河镇
Japanese Name:
Meaning:
Synonym:
Elisabeth Boardman Gerbings G.G., 1845, Camellias, p.219. Orthographic variant for Elizabeth Boardman.
» English Description
Magnolia Gardens & Nursery Catalogue 1942-1943; Gerbing, G.G., 1945, Camellias, p.219: A fine aristocrat from Magnolia Gardens. The exquisite texture com­bined with large size, make this an exceptional variety. Pure white semi-double flowers, with irregular petals are produced freely, early to mid-season. Large rounded, bright green foliage. The vigorous plants grow upright. Very hardy. Fendig, 1949, American Camellia Catalogue: A large white, irregular form. Petal texture resembles a magnolia, 11-12.5 cm across. Satiny, yel­low-white stamens intermixed with fluted petals. Flowers mid-season. Leaves large, rounded, light green, tapered ends, blunt apex, finely serrate, 8.5 cm x 3.8 cm. For colour illustrations see: Urquhart, 1960. The Camellia, pl.XXIX & XXX; also pl.51, p.38, Encyclopedia of Camellias in Colour, vol.II, 1978. Originated as a seedling at Magnolia Gardens, Charleston, South Carolina. Ortho­graphic variant: 'Elisabeth Boardman'. Sport: Elizabeth Boardman Special Peony.
» Chinese Description
朱國棟、蔡燦玉,2011. 《台灣茶花族譜》 p.85. Elizabeth Boardman 白河镇(C. japonica)红山茶 。 1942,美国南卡罗莱纳州 Charleston, Magnolia花园种苗园培育选出。半重瓣、蝶翅形、纯白色、半端凹缺、大轮(11〜12.5cm)、 花期1~2月,树性直立、长势强。突变种:Elizabeth Boardman Special Peony 。Elizabeth Boardman (白河镇)一茶花林目录,1992-2006,茶花品种,p.9; No.1486.