Type Image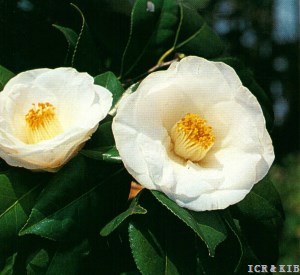 Chosen by wangzhonglang
Id:ICR-9656
Country:Japan
Year Published/Registered:1859
Cultivar Type:For Ornamental
AGM Type:
Scientific Name:Camellia japonica 'Kimigayo'
Species/Combination:C. japonica
Chinese Name:君代
Japanese Name:君ヶ代(関東) きみがよ(かんとう)
Meaning:Japanese National Anthem
Synonym:
君が代 杨绍溥,1978,台湾茶花,p.73, No.150.
» English Description
Kasuya, Kamegorō, 1859, Tsubaki Irohanayose Irotsuki, in the peony form flower section as large size, white. Itō, Ko'emon, 1879, Chinkashū: Large, white, peony form. For colour photos see: Tuyama, 1966, Camellia Cultivars of Japan, pl.64; Tuyama, 1968, Camellias of Japan, pl.39, p.20, descript. p.146; Encyclopedia of Camellias in Colour, vol.I, 1973, pl.244, p.115; Satō, 1975, Chūbu no Tsubaki, p.88; Seibundō Shinkōsha, 1979, Senchinshū, p.43, description, p.210: A bush camellia cultivar of stout growth with white, semi­double flowers to rose form to open peony form. Leaves ovate-elliptic, a little undulate, short acuminate apex, shallowly serrate, dark green. Flowers broadly cup-shaped, petals broad, becoming smaller and white shaded yellow to the centre. Stamens few and irregular. Mid-sea­son blooming. Resembles Hakubotan and Ama-no-gawa. There are two strains of this name in Kantō area, Japan.
» Chinese Description
朱國棟、蔡燦玉,2011. 《台灣茶花族譜》,p.150.
Kimigayo 君が代(Japanese National Anthem)。(C. japonica)红山茶。1859,日本江户。半重瓣(碗形)〜玫瑰〜松牡丹、白色、大轮、花期1〜2月、树性直立、长势强。类似品种:Hakubotan (白牡丹)、Ama-no-gawa (天の川)。
君が代一杨绍溥,1978,台湾茶花,p.73, No.150.