Type Image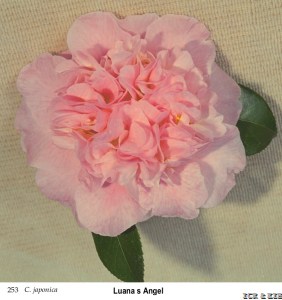 Chosen by wangzhonglang
Id:ICR-11181
Country:Australia
Year Published/Registered:1980
Cultivar Type:For Ornamental
AGM Type:
Scientific Name:Camellia japonica 'Luana's Angel'
Species/Combination:C. japonica
Chinese Name:天使
Japanese Name:
Meaning:
Synonym:
Tianshi Shao, Taichong, 1992, The Observations from the Camellia World, No.567, p.70. Chinese synonym for the Australian C.japonica Luana's Angel.
» English Description
ACRS., 1980, Camellia News, No.74, p.25, Reg. No.253: Originated by Mr & Mrs F.N. Spencer, Cheltenham, Victoria, Australia. A seedling of C.japonica Angel, that first bloomed 1970. An upright, dense plant with dark green, ovate leaves 8 cm long x 5 cm wide. Flowers to 10 cm across, pale pink outer petals, surrounding a high, full centre of medium pink petaloids and pale pink filaments. Blooms late.