Type Image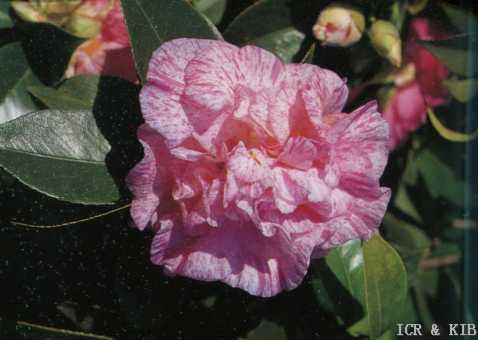 Chosen by wangzhonglang
Id:ICR-11513
Country:Japan
Year Published/Registered:1972
Cultivar Type:For Ornamental
AGM Type:
Scientific Name:Camellia japonica 'Maifubuki'
Species/Combination:C. japonica
Chinese Name:
Japanese Name:舞吹雪 まいふぶき
Meaning:Dancing snowstorm
Synonym:
Wuchuixue Gao, Jiyin, 2007, The Identification....Outstanding Camellias, p.429; Chinese synonym for the Japan C.japonica Maifubuki.
» English Description
Encyclopedia of Camellias in Colour, vol.I, 1972, pl.314: Medium size, peony form double, white with dense crimson speckles and dashes. Leaves ellip­tic, apex long-acuminate, shallowly serrate, olive green, prominent venation. See Seibundō Shinkōsha, 1979, Senchinshū, p.142 as 'Mai-fubuki' and Yokoyama & Kirino, 1989, Nihon no Chinka, p.385. A pure white form is Shiro-daikagura. Named by Yoshizawa Chinju'en Nursery around 1967. From Saitama Prefecture. Chinese synonym 'Wuchuixue'.