Type Image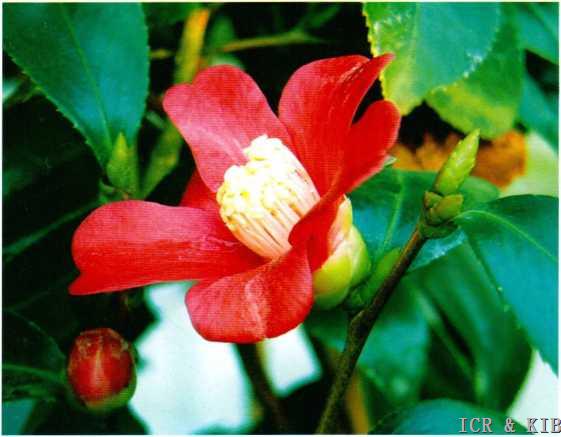 Chosen by wangzhonglang
Id:ICR-12395
Country:Japan
Year Published/Registered:1998
Cultivar Type:For Ornamental
AGM Type:
Scientific Name:Camellia x vernalis 'Mennai-chidori'
Species/Combination:C. vernalis
Chinese Name:目无千鸟
Japanese Name:目ん無い千鳥 めんないちどり
Meaning:
Synonym:
Muwu Qianniao Gao, Jiyin, 2007, The Identification....Outstanding Camellias, p.409; Chinese synonym for Mennai-chidori.
» English Description
Nippon Tsubaki - Sasanqua Meikan, 1998, p.261 with colour photo; English translation p.184. Miniature, purplish dark red, sake cup-shaped single, thick petals circular stamen cluster. Flowers early. Leaves narrowly elliptic, miniature, reflexed. Upright, vigorous growth. An old variety from Toyota District, Aichi Prefecture, seemingly a C.vernalis type. Named and released by Hiroshige Hayakawa in 1991. Chinese synonym 'Muwu Qianniao'.
» Chinese Description
高继银、苏玉华、胡羡聪,2007. 《国内外茶花名种识别与欣赏》,第156页。日本爱知县丰田一带。花红色,泛紫色调,单瓣型,微型花,花瓣5〜7枚,长圆形,厚质,先端凹陷,外翻,瓣面可见深色脉纹,花心有黄色筒状雄蕊,花丝白色,花朵稠密。叶片浓绿色,长椭圆形,较小,光亮,植株立性,生长旺盛。花期早。