Type Image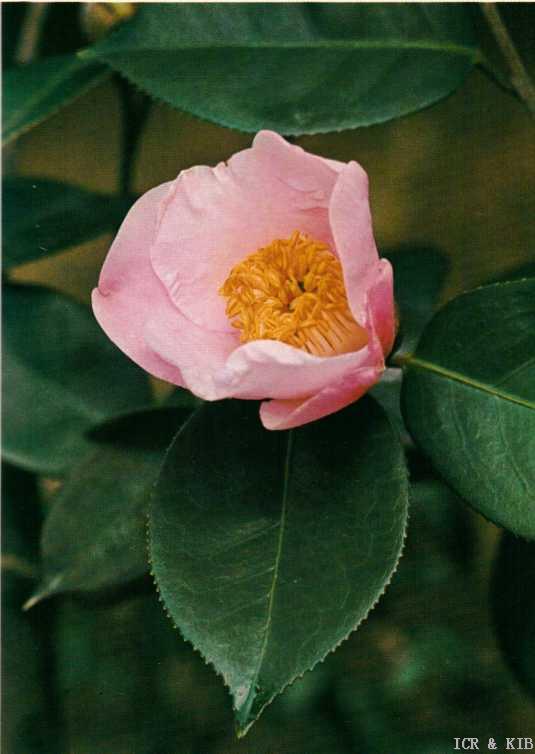 Chosen by Sueo Takano
Id:ICR-12854
Country:Japan
Year Published/Registered:1975
Cultivar Type:For Ornamental
AGM Type:
Scientific Name:Camellia japonica 'Miyo-no-sakae'
Species/Combination:C. japonica
Chinese Name:
Japanese Name:御代の栄 みよのさかえ
Meaning:Prosperous reign
Synonym:
Midai-no-homare (Reine of Glory), (Higo),Izu, 1980, Ohshima Hawaii Botanical Gardens List as 'Midainohomare'.Different reading for 'Miyo-no-homare', which is a synonym for Miyo-no­sakae.
Miyo-no-homare Different reading for Miyo-no-sakae.
» English Description
Yokoyama, 1975, Gendai Tsubaki Meikan, p.222, black and white photo: Pale, blush pink, with deeper pink blotched, single, 6-7 large, overlapping, waved petals, the outermost with a pink reverse. Large cylinder of stamens, pale yellow anthers, whitish filaments. Leaves, small, lanceolate, finely, sharply serrate margins, acuminate apex and rounded base. Originated in Kurume, Fuku'oka Prefecture, Japan. Differ­ent reading: 'Miyo-no-homare'. Colour photos: Tsutomu Suzuki, 1984, Chabana Koyomi, Vol.I, Tsubaki, p.50. Yokoyama & Kirino, 1989, Nihon no Chinka, p.103. For botanical drawings, colour photo and description see pp.56-59, Kyōto Engei Kurabu, 1982, Tsubaki Tokushū, No.11.