Type Image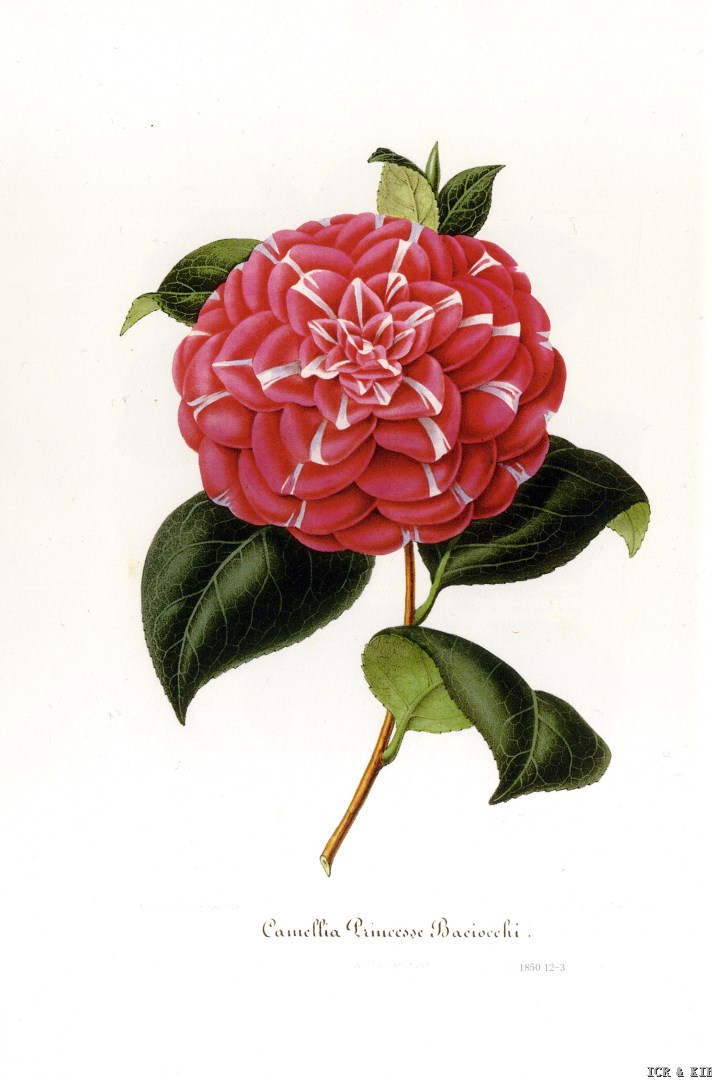 Chosen by wangzhonglang
Id:ICR-15486
Country:Italy
Year Published/Registered:1842
Cultivar Type:For Ornamental
AGM Type:
Scientific Name:Camellia japonica 'Princesse Baciocchi'
Species/Combination:C. japonica
Chinese Name:芭奇欧公主
Japanese Name:
Meaning:
Synonym:
Bacchiocchii Dauvesse Catalogue, 1855-1856. Orthographic error for Princesse Baciocchi.
Baciocchi I Giardini, 1855, Abbreviation for Princesse Baciocchi.
Comtessa Bacciochi Thoby et al., 1988, Tsubaki - A Propos de Camellia, p.45. Orthographic error for Princesse Baciocchi.
Comtesse Bacciochi Delaunay, F., Nursery Catalogue, 1966-1967. Synonym for Princesse Baciocchi.
Prince Bacciocchi Law Somners & Co. Nursery Catalogue, 1885. Orthographic error for Princesse Baciocchi.
25 show +
» English Description
van Houtte Catalogue, 1842, 956: Admirably imbricated; 70 petals. The four first rows of petals are a velvety dark crimson, the others are accented by white bands. Originated by Boffi, Desio, Italy. Named for Maria Anne Elisa Bonaparte, sister of Napoleon I and wife of Felix Baciocchi. She became Princess of Piombino and Lucca. Félix Baciocchi's surname is variously spelled in different references. However, the evidence from Italian authorities, which includes Félix's baptismal certificate (as well as his many signatures), clearly established 'Baciocchi' as the correct orthography. It is also the spelling used in the prior valid listing of the camellia name. Besides suffering considerably in its orthography, it was confused in America, with three other cultivars, viz: Margherita Coleoni Variegated, Chiyoda-nishiki and another unidentified cultivar which retains the name Princess Baciocchi, as against Princesse Baciocchi for the valid clone. Its many orthographic errors and variants include: 'Princess Bacchocci', 'Princess Bacchiochi', 'Princess Bacchicoci', 'Princess Baccinochi','Princess Bacciocchi','Princess Baccniochi','Princess Bachiocchi','Princess Baciochi', 'Princess Baciocchi', 'Princess Cochiochi', 'Princess Bacciocchi','Princesse Baciotecchi'. 'Princesse Bacchiocci', 'Princess Bochinachi', 'Princesse Baciochi','Princesse Bacchiochi','Princesse Bacchionocci', 'Princesse Bacchiotsii', 'Princesse Bacciocchi','Princesse Bacciochi','Princessa Baciocchi','Principesca Bachioki', 'Principessa Baciocchi','Principessa Bachiocchi', 'Principessa Bacchiochi', 'Principessa Bacciacchi', 'Principessa Bacciocchi'
» Chinese Description
朱國棟、蔡燦玉,2011. 《台灣茶花族譜》,p.217.
Princesse Baciocchi 芭奇欧公主(C.japonica)红山茶。1842,意大利Desio,Boffi培育选出。完全形、深红色、白条纹、大轮。
Princesse Baciocchi (芭奇欧公主)一新竹市茶花产销班目录,2002-2006, p.65, P49.