Type Image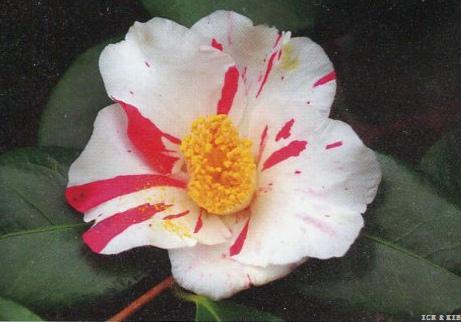 Chosen by wangzhonglang
Id:ICR-17479
Country:Japan
Year Published/Registered:1966
Cultivar Type:For Ornamental
Scientific Name:Camellia japonica 'Shibori-rōgetsu'
Species/Combination:C. japonica
Chinese Name:
Japanese Name:絞腦月 しぼりろうげつ
Meaning:
Synonym:
Rōgetsu-nishiki McIlhenny Catalogue, 1941. Synonym for Shibori-rōgetsu.
Shibori-no-rōgetsu Chūgai Catalogue, 1934-1935: Two or three lines of crimson on snow white, perfectly round petals, single. Early blooming. Synonym for Shibori-rōgetsu.
» English Description
Tuyama, 1966, Camellia Cultivars of Japan, pl. 166 & p.288; Tuyama, 1968, Camellias of Japan, pl.329, p.166, description, p.188; Encyclopedia of Camellias in Colour, vol.I, pl.131; Seibundō Shinkōsha, 1979, Senchinshū, pp.69, 220; Yokoyama & Kirino, 1989, Nihon no Chinka, p.260, colour photo, p.261, description: Leaves broadly elliptic to elliptic, apex shortly acuminate, margins undulate, crenate, venation slightly impressed, peti­oles glabrous. Flower widely open, medium size, single, white, narrowly striped red in various degrees. Flowers early to mid-season. Originated in Ikeda City, Ōsaka. Japan. Sports: Kakure­iso, Nihon-no-homare. Note: No relationship with Rōgetsu.