Type Image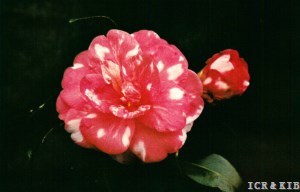 Chosen by Gianmario Motta
Id:ICR-981
Country:Japan
Year Published/Registered:1859
Cultivar Type:For Ornamental
AGM Type:
Scientific Name:Camellia japonica 'Azuma-shibori'
Species/Combination:C. japonica
Chinese Name:东绞
Japanese Name:東絞 あずましぼり
Meaning:Eastern Dapple
Synonym:
Aduma-shibori McIlhenny, 1941, 700 Varieties of Camellia. Orthographic error for Azuma-shibori. Has also been erroneously used in the USA as a synonym for Margherita Coleoni.
Adzuma-shibori Chūgai Nursery Co. Catalogue, 1936-1937.Different reading for Azuma-shi­bori.
Atsuma-shibori Different reading for Azuma-shibori.
Azuma Yashiroda Catalogue, 1939. Abbreviation for Azuma-shibori.
» English Description
Kasuya, Kamegorō, 1859, Tsubaki Irohanayose Irotsuki; Satomi, 1956, Camellia Varieties in Japan, p.4: Deep red blotched white. Large size, rose form to formal double. Vigorous, upright growth. Tuyama, 1966, Camellia Cultivars of Japan, p.80; Tuyama, 1968, Camellias of Japan, pl.198, p.151, description, p.180; Seibundō Shinkōsha, 1979, Senchinshū, p.11 & p.198, left hand photo: medium size, full, rose form double to semi­double, about 30 petals, scarlet spotted white (Rose madder 23/2). Flowers very late. Leaves small, narrowly elliptic to long-oval, impressed venation, tapered acuminate, serrulate, medium green, petioles hairy. See p.326, Yokoyama & Kirino. 1989, Nihon no Chinka. Origi­nated in Kantō District, Japan. Similar to Hoshiguruma. In America this name has been erro­neously used as a synonym for Margherita Coleoni Variegated. Corruptions of name: 'Aduma-Shibori', 'Atsuma-shibori', Adzuma-shibori'.