Type Image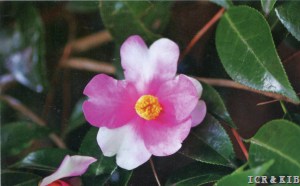 Chosen by wangzhonglang
Id:ICR-21496
Country:Japan
Year Published/Registered:1991
Cultivar Type:For Ornamental
AGM Type:
Scientific Name:Camellia 'Yume'
Species/Combination:C. yuhsienensis hybrid
Chinese Name:梦
Japanese Name:夢 ゆめ
Meaning:Dream
Synonym:
Princess Emily (C.hybrid) C. Aust., Camellia News, Spring 2011, No187, p.24 with colour photo. A seedling of Yume raised by Gene Phillips, Savannah Ga., USA. Name to be changed, already used for another cultivar.
梦中情人 茶花林目录,1992-2006, p.28/28, No.185.
» English Description
Chinka-en, Niigata Retail List, 1991-1992, p.2, colour photo front page; Kinji Ohara, Tateyama, Chiba, 1993-1994, List of Camellias: A single composed of 3 purplish pink inner petals and 3 white petals. See colour photo New Zealand Camellia Bulletin, 1995, Issue No.121, vol.XIX, No.2, p.17. Hybrid between C. yuhsienensis x C. hiemalis 'Kan-tsubaki' (Shishigashira) originated by Dr Kaoru Hagiya, Niigata, Japan..
» Chinese Description
朱國棟、蔡燦玉,2011. 《台灣茶花族譜》,p.289.
Yume梦(Dream)。(C. hybrid)山茶杂交种。1981,日本新泻县。C. yuhsienensis (攸县油茶)x C. hiemalis 'Kantsubaki'(寒椿)。单瓣、碟型、筒蕊、花瓣约6〜7枚、桃红与白的混色、中轮、微香、花期12〜1月、树性横张。
Yume (梦中情人)一茶花林目录,1992-2006, p.28/28, No.185.