Type Image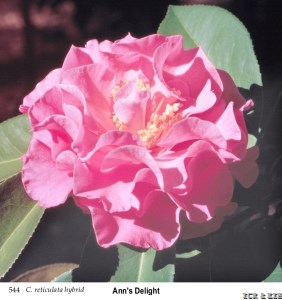 Chosen by wangzhonglang
Id:ICR-23279
Country:Australia
Year Published/Registered:1989
Cultivar Type:For Ornamental
AGM Type:
Scientific Name:Camellia 'Ann's Delight'
Species/Combination:C. reticulata hybrid
Chinese Name:
Japanese Name:
Meaning:
Synonym:
Kuaile Gao, Jiyin, 2007, The Identification....Outstanding Camellias, p.415; Chinese synonym for the Australia C.reticulata hybrid Ann's Delight.
» English Description
Ann's Delight. (C reticulata hybrid). Australian Regn. No. 544. Applicant and originator: H.L. Lane, 345 Marmion Street, Melville, WA, 6156. A chance seedling that first flowered in 1989. A large deep pink paeony form flower of 40 petals and stamens. RHS 64D, 130 mm x 70 mm. The stamens are displayed loosely within the flower, Flowers floriferously mid-season on an upright spreading plant of medium growth. Leaved mid-green, medium sized and keeled, 100 mm x 45 mm. Planted in 'Araluen Park' in WA and displayed at camellia meetings. Application received from the Camellia Society of Western Australia Inc. Registered in 2002.