Type Image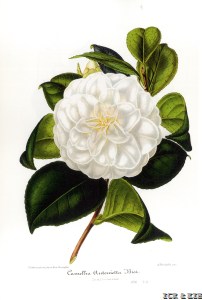 Chosen by Gianmario Motta
Id:ICR-594
Country:Belgium
Year Published/Registered:1846
Cultivar Type:For Ornamental
AGM Type:
Scientific Name:Camellia japonica 'Antonietta Bisi'
Species/Combination:C. japonica
Chinese Name:比斯
Japanese Name:
Meaning:
Synonym:
Antoinetta Bisi von Biedenfeld, 1856, Practische Grundlehren der Cultur von Camellien, p.32. Orthographic variant for Antonietta Bisi.
Antoinette Bisi Seidel, 1847, Pflanzen Catalog, p.5. Orthographic error for Antonietta Bisi.
» English Description
van Houtte, 1846-1847, Catalogue, 27:19. No description: Burdin Maggiore & Co., 1849-1850, Catalogue General: Pure white, regularly imbricated. Verschaffelt, 1856, Iconographie, Book VII, pl.III: Blossoms above average, formed of oval petals, pure white, tinged with yellow at the centre and regu­larly imbricated. It is of Italian origin and recommended by Count Lechi of Brescia. Orthographic variants: 'Antoinette Bisi', 'Antoinette Bisi'.
» Chinese Description
高继银、苏玉华、胡羡聪,2007. 《国内外茶花名种识别与欣赏》,第31页。意大利人培育花白色,花心泛极淡的粉红色调,完全重瓣型,中到大型花,花瓣宽圆,外翻,层叠有序排列,中部花瓣半直立,花朵稠密。叶片淡绿色,长椭圆形,光亮,植株立性,生长旺盛。花期中至晚。