Type Image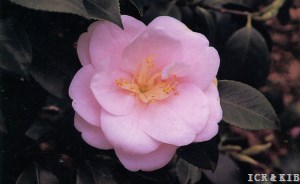 Chosen by wangzhonglang
Id:ICR-828
Country:Japan
Year Published/Registered:1972
Cultivar Type:For Ornamental
AGM Type:
Scientific Name:Camellia japonica 'Asuka'
Species/Combination:C. japonica
Chinese Name:明日香
Japanese Name:明日香 あすか
Meaning:Place name in Nara Prefecture
Synonym:
Atoseyama (Chūbu) Synonym for Asuka.
» English Description
Encyclopedia of Camellias in Colour, vol.I, 1972, p.106 & 322, colour photo, No.217; Seibundō Shinkōsha, 1979, Senchinshū, p.11, colour photo, p.198, description: A pale pink semi-double, outer petals broad-cordate, a poor stamen cluster broken and intersected by an occasional small, erect petal, size 10-11 cm wide, filaments white. Mid-season to late flowering. Leaves, medium size, round-ovate, base acute, reflexed. Plant growth habit, vigorous and erect. See p.306, Yokoyama & Kirino, 1989, Nihon no Chinka. The old name of this cultivar was 'Atoseyama' or 'Atoseyama'(Chūbu), but it was changed in Chūbu in 1971 to avoid confusion between this and the cultivar which had the same Kanji. Originated in Chūbu District, Japan.