Type Image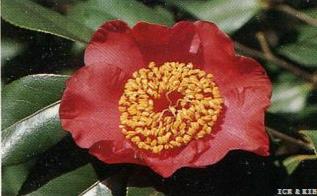 Chosen by Sueo Takano
Id:ICR-2823
Country:Japan
Year Published/Registered:1979
Cultivar Type:For Ornamental
AGM Type:
Scientific Name:Camellia japonica 'Chūbu-kumagai'
Species/Combination:C. japonica
Chinese Name:
Japanese Name:
Meaning:
Synonym:
Chûbu-kumagai The International Camellia Register, 1993, Thomas Savige.
» English Description
Seibundō Shinkōsha, 1979, Senchinshū, p.95, colour photo, p.230, description: A crimson, single to semi-double 9 cm across, with 9-11 large, round, fluted petals. The flower is a higo-like form with a large, rounded, central boss of 200 stamens with yellow anthers, late blooming. See Satō, 1975, Chūbu no Tsubaki, p.112 which erroneously list this cultivar as 'Kumagai'. Resembles Higo­hagoromo. Originated in Chūbu, Japan.