Type Image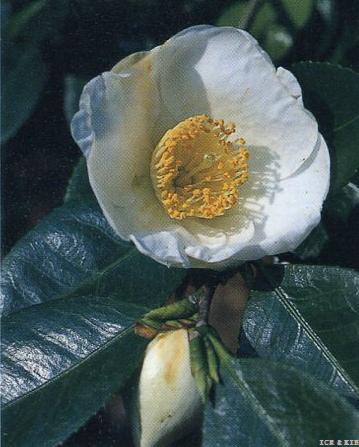 Chosen by wangzhonglang
Id:ICR-9139
Country:Japan
Year Published/Registered:1972
Cultivar Type:For Ornamental
AGM Type:
Scientific Name:Camellia japonica 'Kaga-hassaku'
Species/Combination:C. japonica
Chinese Name:
Japanese Name:加賀八朔 かがはっさく
Meaning:Kaga's Hassaku
Synonym:
Kaga-shirohassaku (Kaga's White Hassaku), Andoh, 1974, International Camellia Journal, No.6, p.15 as 'Kaga-shiro-hassaku': Synonym for Kaga-hassaku.
» English Description
Encyclopedia of Camellias in Colour, vol.I, 1972, p.371; Satō, 1975, Chūbu no Tsubaki, p.10, colour photo; Encyclopedia of Camellias in Colour, vol.II, 1978, pl.329; Seibundō Shinkōsha, 1979, Senchinshū, p.32, colour photo, p.206, description: Small, white, cup-shaped single of 5 petals, 5-6 cm across with a fat, central cylinder of stamens, light, brownish yellow anthers, cream filaments. Blooms early to mid-season. Leaves mid-green, elliptic to long-ovate, apex long-acuminate, margins coarsely serrate, thick, venation promi­nent. See p.49, Yokoyama & Kirino, 1989, Nihon no Chinka. "Kaga" is an old name for the Ishikawa Prefecture and 'Hassaku' is the first day of the 8th lunar month and, in this case, indi­cates early flowering. In the Edo era this variety was developed by "Kaga" retainers and prized for "Chabana" (Tea Ceremony). In the Chūbu district there a variety with same name of 'Has­saku' but it is a different camellia. In recent years the name was changed to Kaga-hassaku but in Kanazawa it is called 'Hassaku-tsubaki'. Synonym: 'Kaga-shirohassaku'.