Type Image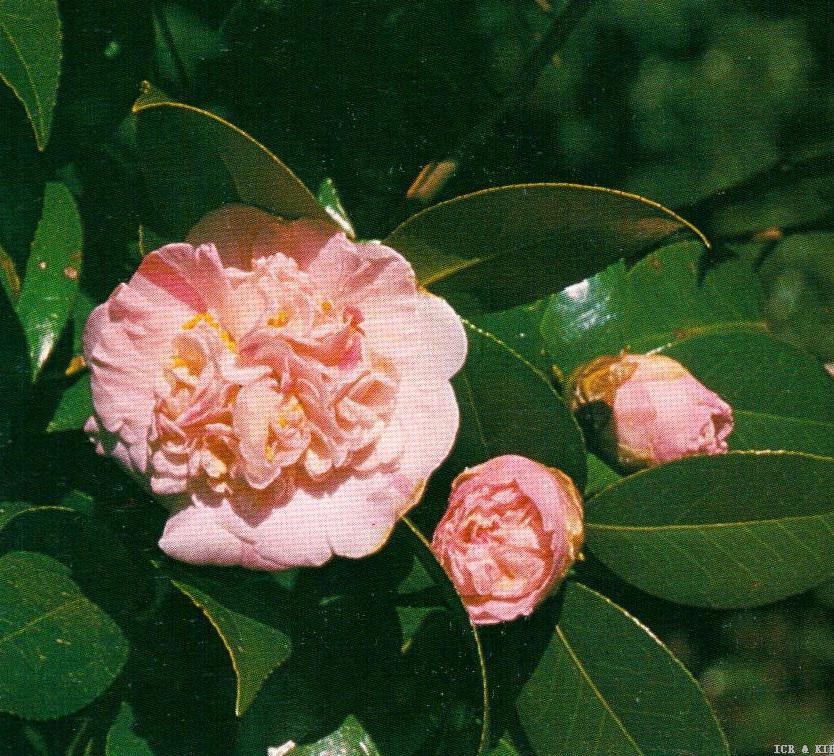 Chosen by wangzhonglang
Id:ICR-9174
Country:Japan
Year Published/Registered:1859
Cultivar Type:For Ornamental
AGM Type:
Scientific Name:Camellia japonica 'Kagura-jishi'
Species/Combination:C. japonica
Chinese Name:神乐狮子
Japanese Name:神楽獅子 かぐらじし
Meaning:Sacred Lion Dance
Synonym:
Kagura Gishi Hazlewood & Jessep, 1972, Checklist - Camellia Cultivars from Nursery Catalogues, p.121. Corruption of the Japanese name Kagura-jishi.
Kagura Pink Fendig, 1953, American Camellia Catalogue. Synonym for Kagura-jishi.
神乐狮子 蔡福贵,2005,世界茶花专辑,p.92. No.203.图173.
» English Description
Kasuya, Kamegorō, 1859, Tsubaki Irohanayose Irotsuki in section on peony form as large size, pink; Itō, Ko'emon, 1879, Chinkashū: Light pink. Large peony form. See colour photos: Tuyama, 1966, Camellia Cultivars of Japan, pl.105; Encyclopedia of Camellias in Colour, vol.I, 1972, pl.324; Yokoyama & Kirino, 1989, Nihon no Chinka, p.380; Seibundō Shinkōsha, 1979, Senchinshū, p.33, colour photo, p.206, description: Light pink, occasionally with rare crimson streaks, medium size, anemone form, with two row of guard petals, some crinkles, and a centre of small, folded, erect petals mixed with stamens. Leaves deep green, elliptic, apices acute, margins finely serrulate. Corruption: 'Kagura Gishi'. Originated in Kantō District, Japan. Synonyms: 'Kagura Pink', 'Pink Kagura'. Resembles Shishigashira.
» Chinese Description
神楽獅子,かぐらじし,'Kagura-jishi'(C. japonica),陈丽惠2013年《山茶花谱台湾情》第177页,【花】:淡粉、稀少红機斑,牡丹~獅子型、中輪、早~中生。【葉】橢圓、中型。立性、弱。1859「椿伊呂波名寄色附」記載。
朱國棟、蔡燦玉,2011. 《台灣茶花族譜》,p.145. Kagura-jishi 神乐狮子(Sacred Lion Dance)。(C.japonica)红山茶。1859,日本江户。牡丹〜狮头形、淡粉红底、少量红条斑、中轮、花期2〜3月、树性直立、弱。
神乐狮子一蔡福贵,2005,世界茶花专辑,p.92. No.203.图173.