Type Image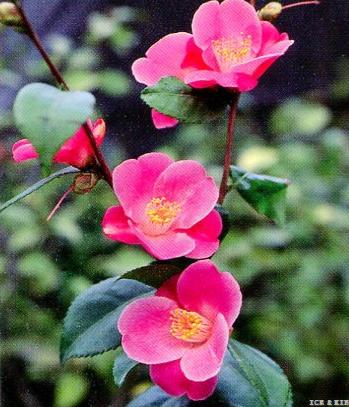 Chosen by Yves CHAPEL
Id:ICR-12569
Country:Japan
Year Published/Registered:1989
Cultivar Type:For Ornamental
Scientific Name:Camellia 'Minato-no-akebono'
Species/Combination:C. hybrid
Chinese Name:港曙
Japanese Name:港の曙 みなとのあけぼの
Meaning:Harbor at Dawn
Synonym:
Gangzhishu Gao, Jiyin, 2007, The Identification....Outstanding Camellias, p.428; Chinese synonym for the Japan C.hybrid Minato-no-akebono.
» English Description
Yokoyama & Kirino, 1989, Nihon no Chinka, p.120, colour photo and description: Very small size, light red with touch of mauve, fading towards white at the centre, single opening almost flat with 6 ovate, emarginate petals and a short sta­men cluster, with white filaments and bronze anthers. Fragrant; flowers profusely. Leaves deep green, elliptic, margins serrate. Blooms early to mid-season. A seedling of C.lutchuensis x C.japonica Kantō-tsukimiguruma. Originated in Yokohama City, Japan. Nippon Tsubaki - Sasanqua Meikan, 1998, p.251 with colour photo; English translation p.176. Parentage stated to be C.lutchuensis x Kantō-hanimiguruma. Originated and released by Masaomi Murata in 1981. Chinese synonym 'Gangzhishu'.
» Chinese Description
朱國棟、蔡燦玉,2011. 《台灣茶花族譜》,p.185.
Minato-no-akebono 港の曙(Harbor at Dawn)。(C. hybrid)山茶杂交种。1981 年,日本神奈川,村田祗臣。C. lutchuensis (姬山茶花)x C. Japonica'Kanto-tsukimiguruma'(关东月见车)。单瓣、平开、6枚卵形花瓣、瓣端凹缺、淡红色、带点淡紫色调、迷你、多花性、有香气、 花期1〜3月、树性强。