Type Image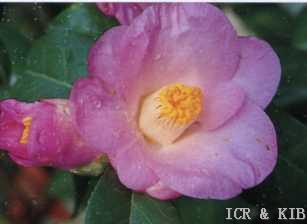 Chosen by wangzhonglang
Id:ICR-15182
Country:Japan
Year Published/Registered:1989
Cultivar Type:For Ornamental
AGM Type:
Scientific Name:Camellia japonica 'Pink-hatsu-arashi'
Species/Combination:C. japonica
Chinese Name:
Japanese Name:ピンク初嵐 ぴんくはつあらし
Meaning:
Synonym:
Pinku-hatsu-arashi (Pink 'Hatsu-arashi'), ICS., Apr. 1991, Japanese Camellia Cultivar List, p.19 as 'Pinku-hatsuarashi': Small size, light pink, campanulate single.Different reading for Pink-hatsu-arashi.
» English Description
Yokoyama & Kirino,1989, Nihon no Chinka, p.101, colour photo & description as 'Pink-hatsuarashi': Small size, pale pink, single with 3 small outer petals and 3 large, rounded, emarginate inner petals and a broad stamen cylinder with yellow anthers. Leaves shining mid-green, elliptic. Blooms early to mid-season. Originated in Kurume, Fuku'oka Prefecture, Japan. Named and released by Tomita Kunitake in 1965. Synonym: 'Pinku-hatsu-arashi'.