Type Image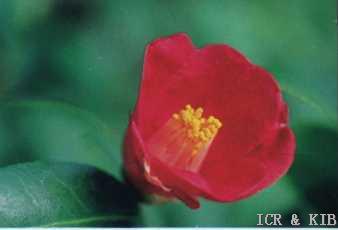 Chosen by wangzhonglang
Id:ICR-16014
Country:Japan
Year Published/Registered:1989
Cultivar Type:For Ornamental
AGM Type:
Scientific Name:Camellia japonica 'Reiganji-akayabu-tsubaki'
Species/Combination:C. japonica
Chinese Name:
Japanese Name:霊鑑寺赤薮椿 れいがんじあかやぶつばき
Meaning:
Synonym:
Reikanji-akayabu-tsubaki Different reading for Reiganji-akayabu-tsubaki.
» English Description
Yokoyama & Kirino. 1989, Nihon no Chinka, p.188, colour photo and description: Small size. red. open cup­shaped single camellia of 5 rounded, overlapping petals and a central stamen column. pinched in at top, with pinkish filaments, joined for their lower half, and yellow anthers. Leaves elliptic, shining mid-green, apices acute, margins shallowly serrate. Mid-season to late flowering. Originated in Reigan Temple, Kyōto Prefecture, Japan. Named and released by Misoji Yamaguchi in 1989. Different reading: 'Reikanji-akayabu­tsubaki'. Note: 'Reiganji' is said to be the valid name for this temple. but it has also been popularly called 'Reikanji'. It is the Buddhist convent famous for its collection of ancient dolls and camellias.