Type Image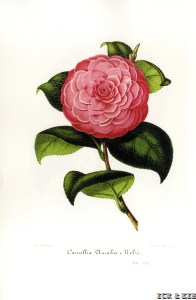 Chosen by Gianmario Motta
Id:ICR-317
Country:Italy
Year Published/Registered:1852
Cultivar Type:For Ornamental
AGM Type:
Scientific Name:Camellia japonica 'Amalia Melzi'
Species/Combination:C. japonica
Chinese Name:
Japanese Name:
Meaning:
Synonym:
Amalie Melzi Joseph Baumann, 1856, Prix Courant, p.2. Orthographic variant for Amalia Melzi.
Amelia Melzi Prudente Besson Catalogue, 1864. Orthographic variant for Amalia Melzi.
Amelie Melzi Auguste van Geert, 1855, Catalogue, No. 38, p.25. Orthographic error from Amalia Melzi.
» English Description
Ambroise Verschaffelt, 1852-1853 Catalogue, p.18. No description. Luzzatti Catalogue, 1853. No decription. Verschaffelt, 1854, Nouvelle Iconographie, Book 12, pl.4: Of Italian origin. Although it belongs to the perfections by the imbri­cations of its petals, these have various shapes and are inserted in a certain, disorderly way; sometimes like a star, at other times, regularly imbricated. The blossoms, of medium size, are a vivid cherry-red, becoming pink to the centre, which forms a rose shaped heart. The green leaves are rather small but compact. Originated in Italy by Negri, Milan. Orthographic variant: 'Amelia Melzi', 'Amelia Melzii', 'Amalie Melzi'.