Type Image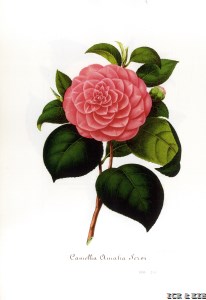 Chosen by Gianmario Motta
Id:ICR-319
Country:Italy
Year Published/Registered:1855
Cultivar Type:For Ornamental
AGM Type:
Scientific Name:Camellia japonica 'Amalia Servi'
Species/Combination:C. japonica
Chinese Name:阿马利娅
Japanese Name:
Meaning:
Synonym:
Amelia Servi van Houtte, 1859, Catalogue, 77:49. Orthographic error for Amalia Servi.
» English Description
Franchetti, 1855, Collezione di Camelie; p.9: Perfectly imbricated, light red with a few white lines. Central petals pointed. Verschaffelt, 1856, Nouvelle Iconographie, Book 2, pl.3: Of a class of perfections. The whole, of a bright, uniform, cherry-red colour, constituting a graceful blossom of scarcely medium size. Originated by Franchetti, Florence, Italy. Ortho­graphic errors: 'Amelia Seryi', 'Amelia Servii'. Orthographic variant: 'Amelia Servi'.