Type Image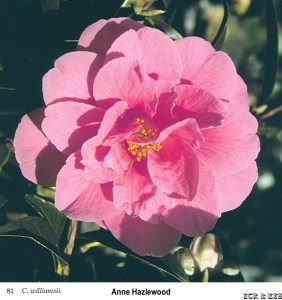 Chosen by wangzhonglang
Id:ICR-533
Country:Australia
Year Published/Registered:1967
Cultivar Type:For Ornamental
AGM Type:
Scientific Name:Camellia 'Anne Hazlewood'
Species/Combination:C. williamsii
Chinese Name:
Japanese Name:
Meaning:
Synonym:
Haizi Gao, Jiyin, 1998, The World's Best Camellia Cultivars, p.134. Chinese synonym for Anne Hazlewood.
» English Description
ACRS, 1967, Camellia News, No.28, p.4, Reg. No.81: Originated by Walter Hazlewood, Epping, N.S.W., Australia. Seed parent Donation, pollen parent Con­spicua. First flowered 1961. Semi-double, 11 cm across, with 22-27 petals of Rhodonite Red H.C.C. 0022 colour. Blooms mid-season to late. Plant has a dwarf, dense, upright habit with dark, glossy green leaves, 9.5 cm long by 3.8 cm wide.