Type Image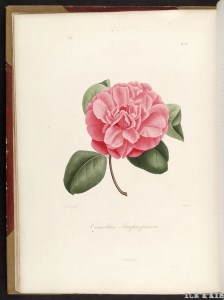 Chosen by Gianmario Motta
Id:ICR-848
Country:Italy
Year Published/Registered:1832
Cultivar Type:For Ornamental
AGM Type:
Scientific Name:Camellia japonica 'Atropurpurea Nova'
Species/Combination:C. japonica
Chinese Name:
Japanese Name:
Meaning:
Synonym:
Athropurpurea Nova Berlèse, 1843, Iconographie, pl.206. Orthographic error for Atropurpurea Nova.
» English Description
Debonnaire, 1832, Annales Société Horticulture de Paris, 11:15-20, as 'Athropupurea Nova': Flower about 10 cm across, full, irregular, of a vivid cherry-red, with a touch of salmon-orange. The outer petals are horizontal, 4 cm wide by 5 cm long, in 4-5 rows diminishing in size, veined with very intense red, deeply notched, reflexed and imperfectly imbricated. The inner petals are few and very small, in irregular serries, elevating the centre to the appearance of the heart of a peony. Originated in Italy.