Type Image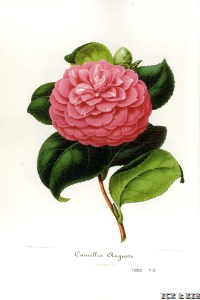 Chosen by Gianmario Motta
Id:ICR-881
Country:Italy
Year Published/Registered:1845
Cultivar Type:For Ornamental
AGM Type:
Scientific Name:Camellia japonica 'Augusto'
Species/Combination:C. japonica
Chinese Name:
Japanese Name:
Meaning:
Synonym:
Cesare Augusto Auguste van Geert Nursery Catalogue 1848, p.15. Synonym for Augusto.
» English Description
Berlèse, 1845, Monographie, ed.3, p.149: The plant habit is tall and slender. It belongs to the class of perfections with irregular imbrication, the petals changing from rounded, emarginate circumscription to lanceolate form, apiculate or slightly laciniate, towards the centre. Verschaffelt, 1853, Nouvelle Iconographie. Book VII, pl.II. All are a rose-pink with a few white stripes or splotches at the centre. An Italian seedling raised by Mariani and named for Cesare Augusto. Synonym: 'Cesare Augusto'.