Type Image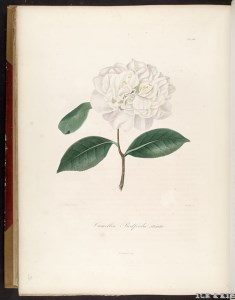 Chosen by Gianmario Motta
Id:ICR-1234
Country:Italy
Year Published/Registered:1843
Cultivar Type:For Ornamental
AGM Type:
Scientific Name:Camellia japonica 'Bedfordiae Striata'
Species/Combination:C. japonica
Chinese Name:
Japanese Name:
Meaning:
Synonym:
Bedfordii Striata Hazlewood & Jessep, 1972, Checklist - Camellia Cultivars from Nursery Catalogues, p.20. Orthographic variant for Bedfordiae Striata.
» English Description
Berlèse, 1843, Iconographie, pl.286: The flower is a complete, irregular double, 9-10 cm across, white, lightly washed with pale rose, the petals marked with streak of rose-pink. The exterior petals are in 2 rows, keeled and twisted; the others somewhat flat and reflexed, are a mixture of large and small, some regular, others large and irregular; stamens, short and sterile, in fascicles. Blooms mid-season. Orthographic variant: 'Bedfordii Striata'.