Type Image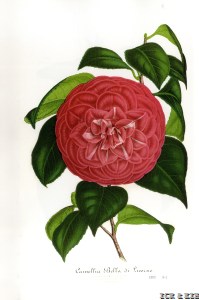 Chosen by Gianmario Motta
Id:ICR-1265
Country:Italy
Year Published/Registered:1860
Cultivar Type:For Ornamental
AGM Type:
Scientific Name:Camellia japonica 'Bella di Livorno'
Species/Combination:C. japonica
Chinese Name:
Japanese Name:
Meaning:
Synonym:
Bella di Lavorno Hazlewood & Jessep, 1972, Checklist - Camellia Cultivars from Nursery Catalogues, p.20. Orthographic error for Bella di Livorno.
» English Description
Verschaffelt, 1860, Nouvelle Iconographie, Book IX, pl.I: A beautiful pink, liberally striped with white at the centre, and composed of numerous, biform petals; those on the exterior, rounded, closely serried, full or slightly bilobate, the others oval, all imbricated with the utmost regularity. The foliage is small and elegant. It was obtained in the city of Livorno, Italy by M. Mazzanti. Orthographic error: 'Bella di Lavorno'.