Type Image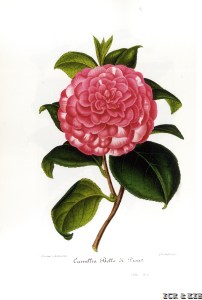 Chosen by Gianmario Motta
Id:ICR-1267
Country:Italy
Year Published/Registered:1851
Cultivar Type:For Ornamental
AGM Type:
Scientific Name:Camellia japonica 'Bella di Pisa'
Species/Combination:C. japonica
Chinese Name:
Japanese Name:
Meaning:
Synonym:
Bella de Pisa Ambroise Verschaffelt, 1857, Catalogue No.63, p.25. Azalea and Camellia Society of America Yearbook, 1933, p.26. Orthographic variant for Bella di Pisa.
Bella Pisa Jean Verschaffelt fils, 1864, Price List No.1, p.4. Orthographic error for Bella di Pisa.
Belle de Pisa Hazlewood & Jessep, 1972, Checklist - Camellia Cultivars from Nursery Catalogues, p.21. Orthographic variant for Bella di Pisa.
» English Description
Luzzatti, 1851, Collezione di Camelie: Beautifully imbricated, rose flower with white blotches or streaks. Verschaffelt, 1856, Nouvelle Iconographie, Book VIII, pl.II: Mr Luzzatti sent this in 1852, its rather small, though graceful blossoms are streaked with white. Although belonging, by the imbrication of the petals, to the class of perfections, its flowers pre­sent a certain disorder with the petals, sometimes rounded, sometimes oval, full or uneven. A cherry red mixed with white enhances the effect. Orthographic errors: 'Belle de Pisa', 'Bella de Pisa', 'Bella Pisa'. Originated in Florence, Italy.