Type Image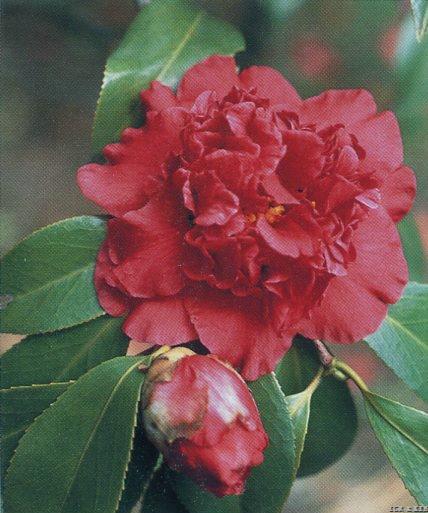 Chosen by wangzhonglang
Id:ICR-1347
Country:Japan
Year Published/Registered:1859
Cultivar Type:For Ornamental
AGM Type:
Scientific Name:Camellia rusticana 'Beni-arajishi'
Species/Combination:C. rusticana
Chinese Name:红荒狮子
Japanese Name:紅荒獅子 べにあらじし
Meaning:Beni (紅),red; ara (荒),intractable; jishi (獅子) a variant of shishi, lion. This cultivar is reported to be a sport variety of No. 307 Ara-jisni. It seems that there are many subcultivars belonging to Beni-ara-jishi.
Synonym:
Callie SCCS, 1968, Camellia Nomenclature, p.30. Synonym for Beni-arajishi erroneously as 'Are­jishi'.
Kō-arajishi Watanabe, 1970, Kyōto Engei Kurabu, Tsubaki Tokushū, No.10, p.138. Different read­ing for Beni-arajishi.
Pompeian Rubra Glen St Mary Nursery Co. Catalogue, 1937-1938, p.7. Orthographic error for 'Pomponia Rubra', synonym for Beni-arajishi as 'Aloha'.
Pompenia Rubra Fruitland Nursery Catalogue, 1937-1938. Synonym for Beni-arajishi as 'Aloha'.
» English Description
Kasuya, Kamegorō, 1859, Tsubaki Irohanayose Irotsuki in early flowering section. Itō, Ko'emon, 1879, Chinkashū: Early bloomer. Deep red Peony form. This cultivar is widely grown, often, invalidly as 'Arajishi', which is the variegated form. (See Arajishi). Leaves long-oval, large, apices acuminate, margins sharply serrate, petioles hirsute. The name translates as "Red Restive Lion". Originated in Japan. Different reading: 'Beni-are­jishi', 'Kō-arajishi'. Synonyms: 'Aloha', 'Lady Alice', 'Pompenia Rubra'. Colour photos can be found on p.61, Macoboy, 1981, The Dictionary of Camelluas in Colour; Tuyama, 1966, Camellia Cul­tivars of Japan, p.66 and Camellias of Japan, 1968, pl.244 & p.164; and in Seibundō Shinkōsha, 1979, Senchinshū, p.134.