Type Image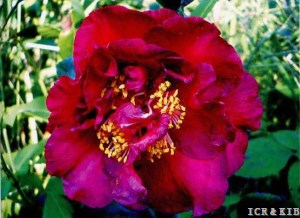 Chosen by wangzhonglang
Id:ICR-4073
Country:United States
Year Published/Registered:1956
Cultivar Type:For Ornamental
AGM Type:
Scientific Name:Camellia japonica 'Don-Mac'
Species/Combination:C. japonica
Chinese Name:唐马克
Japanese Name:
Meaning:
Synonym:
Don Mack Feray's Fine Flowers Catalogue, 1960. Orthographic error for Don-Mac.
唐麦克 新竹市茶花产销班目录,2002-2006, p.53, D42.
大人物 茶花林目录,1992-2006, p.7/28, No.945.
东迈克 高继银,2007,国内外茶花名种识别与欣赏,p.75.
» English Description
American Camellia Yearbook, 1956, p.60, Reg.273: This 11 year old seedling of H.A. Downing, originated by Mrs Sylvia Donahoo, Pensacola, Florida, USA, which flowered for the first time 1951. Leaves dark green, 8.5 cm long x 4.5 cm wide. The dark red flowers are 13.5 cm across, similar in form to Adolphe Audusson. The 21 petals are creped and curled, anthers yellow. Flowers mid-season to late. Sports: Don-Mac Peony, Don-Mac Variegated. See colour photo front cover SCCS., 1963, The Camellia Review, vol.24, No.5. Orthographic error: 'Don Mack'.