Type Image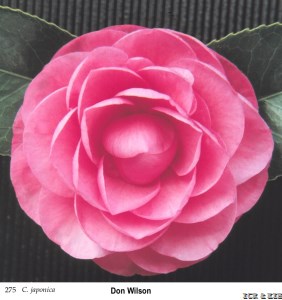 Chosen by wangzhonglang
Id:ICR-4031
Country:Australia
Year Published/Registered:1981
Cultivar Type:For Ornamental
AGM Type:
Scientific Name:Camellia japonica 'Don Wilson'
Species/Combination:C. japonica
Chinese Name:威尔逊
Japanese Name:
Meaning:
Synonym:
Weierxun Gao, Jiyin, 2007, The Identification....Outstanding Camellias, p.419; Chinese synonym for the Australia C.japonica Don Wilson.
» English Description
ACRS., 1981, Camellia News, No.79, p.28, Reg. No.275: Originated by G.W. Hooper, Camellia Vale Nursery, Bexley North, N.S.W., Australia. A chance seedling that first bloomed 1977. An upright plant with 10.5 cm x 5 cm dark green, broad-elliptic, strongly acumi­nate leaves. The flowers, formal double, 8.5 cm across, spinel pink with darker veining. Blooms early to mid-season.
» Chinese Description
高继银、苏玉华、胡羡聪,2007. 《国内外茶花名种识别与欣赏》,第75页。澳大利亚G.W.Hooper培育,系由红山茶的实生苗所得。花深粉红色,完全重瓣型,中型花,花瓣40枚以上,宽圆形,覆瓦状排列,瓣面有深色脉纹,内部花瓣略内卷,花朵稠密。叶片浓绿色,阔椭圆形,叶齿深,植株立性,生长旺盛。花期早至中。