Type Image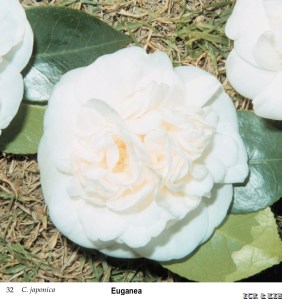 Chosen by wangzhonglang
Id:ICR-5013
Country:Australia
Year Published/Registered:1958
Cultivar Type:For Ornamental
AGM Type:
Scientific Name:Camellia japonica 'Euganea'
Species/Combination:C. japonica
Chinese Name:
Japanese Name:
Meaning:
Synonym:
Eugania Hazlewood & Jessep, 1972, Checklist - Camellia Cultivars from Nursery Catalogues, p.73. Orthographic error for Euganea.
» English Description
ANZCRS., 1958, Camellia Annual, No.5, p.30: Originated by Gordon Water­house, Kurrajong Heights, N.S.W., Australia. Thought to be a seedling 18 years old. Flower complete double, pure white, neat, carnation form. Early flowering. Habit tall, vigorous and bushy. Orthographic error: 'Eugania'.