Type Image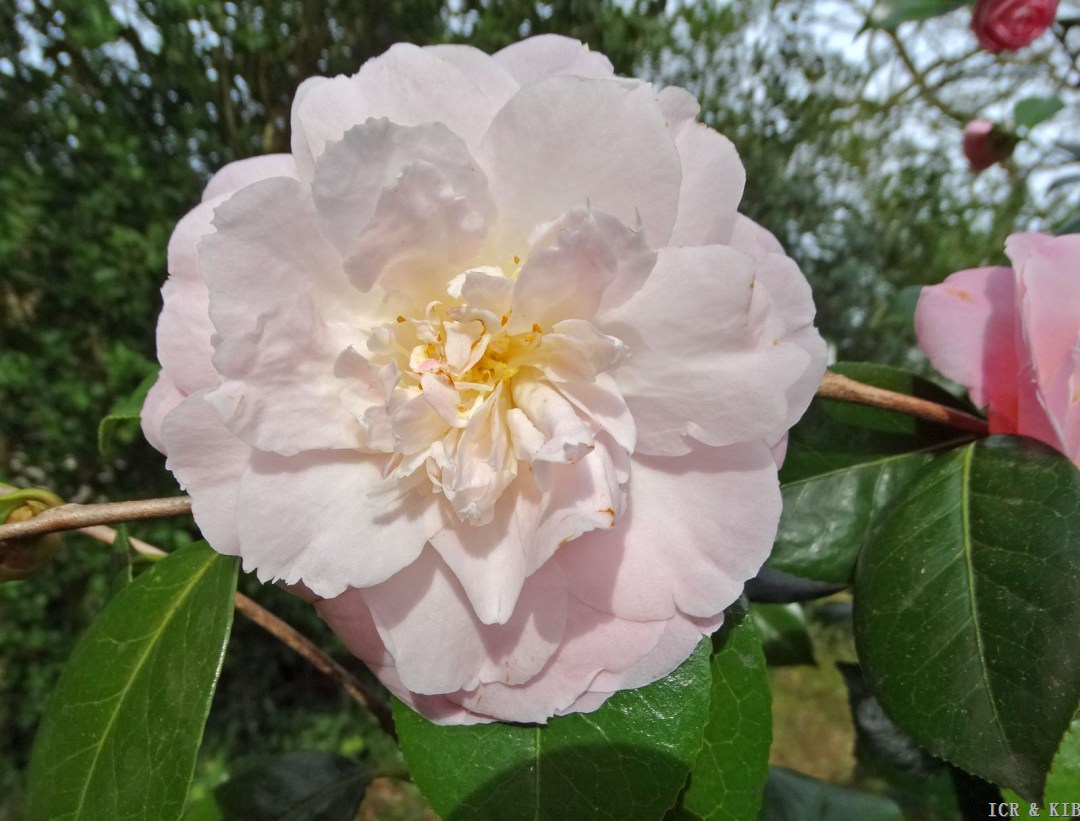 Chosen by Yves CHAPEL
Id:ICR-9043
Country:United States
Year Published/Registered:1964
Cultivar Type:For Ornamental
AGM Type:RHS-AGM
Scientific Name:Camellia 'Julia Hamiter'
Species/Combination:C. williamsii
Chinese Name:哈密特
Japanese Name:
Meaning:
Synonym:
Hamite Chinese synonym for USA C.x williamsii, Julia Hamiter.
Julia Hamiter Blush Gentry, 1980, ACS., The Camellia Journal, vol.35, No.4. Not considered suffi­ciently different to warrant status as a mutant. Synonym for Julia Hamiter.
哈密特 高继银,1998,世界名贵茶花,P.143, No.4.
海上明月 茶花林目录,1992-2006, p.13/28, No.1145.拼音错误。
滇密特尤莉 新竹市茶花产销斑目录,2002-2006, p.58,J33.拼音错误。
» English Description
American Camellia Yearbook, 1964, colour photo facing p.180: A hybrid seedling of Donation and an unknown pollen parent. Originated by Fred Hamiter, Shreve­port, Louisiana, USA. Registration published 1968, American Camellia Yearbook, p.132, Reg. No.964: A 6 year old chance hybrid seedling of Donation. Plant growth is upright, open and medium in rate with dark green leaves, 8.5 cm x 6 cm. The flowers are mostly rose form double or, occasionally, semi-double, anemone form and formal double. Size of bloom 9 cm across x 3 cm deep. It has 55 petals and a few petaloids. Colour is a delicate blush pink blending to white to greenish white at the base of the petals, yellow stamens. Blooms mid-season. See colour pl. front cover, ACS, 1974, The Camellia Journal, vol.19, No.1. Received the Aubrey Harris Hybrid Award of the ACS in 1968. Sport: Julia Hamiter Variegated. Synonym: 'Julia Hamiter Blush'. Chinese synonym: 'Hamite'. This cultivar was awarded as an AGM (Award of Garden Merit) plant by the Royal Horticultural Society in 1993 at H5 rate (hardy: cold winter; -15°C to -10°C).
» Chinese Description
朱國棟、蔡燦玉,2011. 《台灣茶花族譜》,p.143. Julia Hamiter 哈密特(C.xwilliamsii)威廉斯茶。1964,美国路易斯安那州Shreveport,Fred Hamiter培育选出。Donation (快活林)自然实生种。玫瑰形(偶而出现半重瓣〜唐子〜完全)、浅粉红色混杂白色、瓣基部淡绿白、花瓣约55枚、少量瓣化蕊、黄色雄蕊、中轮(9 x 3cm)、花期1〜2月、树性直立〜横张、长势中等。同种异名:Julia Hamiter Blush。 Julia Hamiter (哈密特)一高继银,1998,世界名贵茶花,P.143, No.4. Julia Hammiter (海上明月)一茶花林目录,1992-2006, p.13/28, No.1145.拼音错误。Julia Hamitter (滇密特尤莉)一新竹市茶花产销斑目录,2002-2006, p.58,J33.拼音错误。