Type Image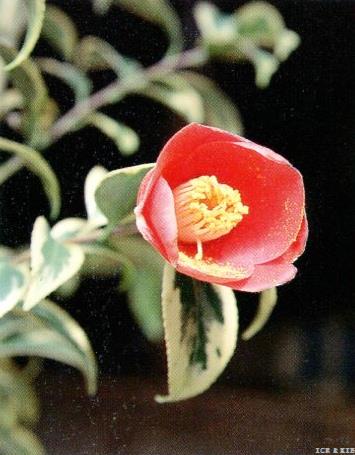 Chosen by Sueo Takano
Id:ICR-10077
Country:Japan
Year Published/Registered:1956
Cultivar Type:For Ornamental
AGM Type:
Scientific Name:Camellia rusticana 'Koshi-no-fubuki'
Species/Combination:C. rusticana
Chinese Name:越吹雪
Japanese Name:越の吹雪 こしのふぶき
Meaning:Blizzard of Niigata
Synonym:
Koshi-no-hubuki Watanabe, 1960, Kyōto Engei Kurabu, Tsubaki Tokushū, No.1, p.58.Different reading for Koshi-no-fubuki.
» English Description
Satomi, 1956, Camellia Varieties of Japan. No description. Encyclopedia of Camellias in Colour, vol.I, 1972, pl.456, p.185: Small, red, tubular to campanulate single. Leaves olive green with a wide, creamy margin, often itself speckled with green and some pale green areas. See p.172, Yokoyama & Kirino, 1989, Nihon no Chinka. Seibundō Shinkōsha, 1979, Senchinshū, pp.55, 214. Originated in Niigata Prefecture, Japan as a mutation of a wild plant.
» Chinese Description
朱國棟、蔡燦玉,2011. 《台灣茶花族譜》,p.154.
Koshi-no-fubuki 越の吹雪(Blizzard of Niigata) 。 (C. rusticana)雪茶。1956,日本,长尾草生园命名发表。日本新泻县野生雪茶枝变种选出。单瓣、筒〜喇叭形、红色、筒蕊、小轮(6x 3.5cm)、花期2〜3月、橄榄绿叶片、宽乳白色覆轮、淡绿色杂斑、相当漂亮的观叶品种、 树性直立、稍弱。