Type Image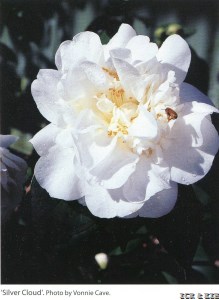 Chosen by wangzhonglang
Id:ICR-18060
Country:New Zealand
Year Published/Registered:1968
Cultivar Type:For Ornamental
AGM Type:
Scientific Name:Camellia japonica 'Silver Cloud'
Species/Combination:C. japonica
Chinese Name:银云
Japanese Name:
Meaning:
Synonym:
Glory Glory Hallelujah ACRS., 1979, Camellia News, No.71, p.8, black & white illustration: Large, incomplete double white. Synonym for Silver Cloud.
Yinyun Gao, Jiyin, Ltr, 30 July 1990. Chinese synonym for the Nuccio's C.japonica, Silver Cloud.
» English Description
Masons Nursery Catalogue, 1968, Large, white semi-double with ruffled petals. Blooms mid-season. Originated in New Zealand.
» Chinese Description
朱國棟、蔡燦玉,2011. 《台灣茶花族譜》,p.246. Silver Cloud银云(C. japonica)红山茶。1968,新西兰。半重瓣、白色、大轮、花期1~2月。
銀雲,Silver Cloud(C. japonica),陈丽惠2013年《山茶花谱台湾情》第235页,白、牡丹型、大~巨大輪、早~晚花,1980年美國發表。