Type Image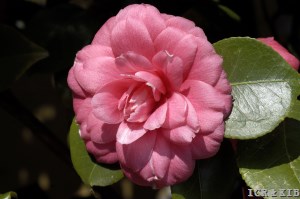 Chosen by Gianmario Motta
Id:ICR-182
Country:Italy
Year Published/Registered:1982
Cultivar Type:For Ornamental
AGM Type:
Scientific Name:Camellia japonica 'Alessandro Carmine'
Species/Combination:C. japonica
Chinese Name:卡红
Japanese Name:
Meaning:
Synonym:
Kahong. Gao, Jiyin, 2007, The Identification....Outstanding Camellias, p.409; Chinese synonym for the Italy C.japonica Alessandro Carmine.
» English Description
Ghisleni, Pier Luigi, 1982. Le Camelie, fig.17, p.41: Medium to large size, red, open, informal double, with large outer petals and a centre of some small, erect, irregular and twisted petals, intermixed with yellow anthered stamens. Leaves obovate or elliptic, apices tapering acuminate, margins serrulate, slightly yellowish mid-green. Originated by M. Carmine, Cannero Riviera, Italy about 1970.
» Chinese Description
高继银、苏玉华、胡羡聪,2007. 《国内外茶花名种识别与欣赏》,第28页。意大利M.Carmine先生培育。花红色,偶有小白斑,半重瓣型至玫瑰重瓣型,中到大型花,大花瓣平铺,略呈波浪状,小花瓣直立、扭曲,与金黄色雄蕊混生,花丝粉红色,花朵稠密。叶片中等绿色,叶宽圆,先端外弯,叶齿明显,植株紧凑,生长旺盛。花期中至晚。