Type Image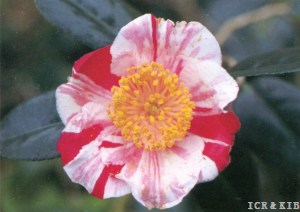 Chosen by wangzhonglang
Id:ICR-777
Country:Japan
Year Published/Registered:1958
Cultivar Type:For Ornamental
AGM Type:
Scientific Name:Camellia 'Asahi-nishiki'
Species/Combination:Higo
Chinese Name:旭锦
Japanese Name:旭錦 あさひにしき
Meaning:Dawn brocade
Synonym:
Asahi Nishi Hazlewood & Jessep, 1972, Checklist - Camellia Cultivars from Nursery Catalogues, p.14. Corruption of the Japanese name Asahi-nishiki.
» English Description
JCS, 1958, Nomenclature List of Higo Camellia Varieties; Adachi, 1960, Camellia. Its Appreciation and Artistic Arrangement, p.75; Hiratsuka, 1964, Higo Camellia, p.14, 40; Seibundō Shinkōsha, 1979, Senchinshū, p.10, colour photo, p.198, description: Flower, single Higo form, crimson markings "like sunlight on snow" on pure, white base, opening flat to 8-10 cm across, with large ring of stamens, having yellowish white filaments. Mid-season flowering. Leaves, medium size, narrowly elliptic, sparse. Originated in Kumamoto Prefec­ture, Japan. Corruption: 'Asahi Nishi'.