Type Image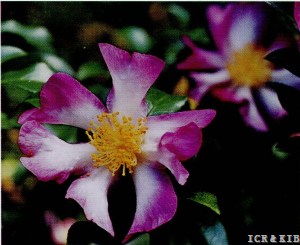 Chosen by wangzhonglang
Id:ICR-789
Country:Japan
Year Published/Registered:1898
Cultivar Type:For Ornamental
AGM Type:
Scientific Name:Camellia sasanqua 'Asahi-zuru'
Species/Combination:C. sasanqua
Chinese Name:朝日鹤
Japanese Name:朝日鹤 あさひづる
Meaning:Crane at sunrise
Synonym:
Ahahizuru Stone, Vi., 1983, SCCS, The Camellia Review, vol.45, No.2, p.18, as 'Ahahi-Zuru'. Corruption for Japanese name Asahi-zuru.
Asahi-dzuru Chūgai Nursery Catalogue, 1937-1938, p.18.Different reading for Asahizuru.
Asahitsuru Different reading for Asahizuru.
Crane Dance at Dawn Macoboy, 1981, The Colour Dictionary of Camellias, p.136. Synonym for Asahizuru.
Xuhe (Rising Sun),Gao & Zhuang, 1989, The Camellia in China, p.76, No.562. Chinese synonym for the Japanese C.sasanqua, Asahi-zuru.
4 show +
» English Description
Ashizawa, 1898, Chabaika Taishū; Wada, Hakoneya Nurs­eries, 1941, Japanese Garden Treasures, p.31: Red with a white base, large size, single, opens evenly, narrow petals. Early flowering. For colour photo see pl.10, p.8, Andoh, 1974, Tsubaki Nyūmon. Different readings: 'Asahitsuru', 'Asahidzuru'. Originated in Kantō District, Japan. Selected and named by Jisuke Minagawa.
» Chinese Description
徐碧玉. 2007,《茶梅》,第36页。原产日本崎玉县,明治末年皆川治助从实生苗中选出,1932年公布。花白色,镶鲜红色宽边,花瓣圆形,7〜10枚,盛开后反卷呈飞舞状,花径8~10厘米,单瓣型,具浓香,花期10月中旬至12月中旬,能结实;叶长椭圆形,浓绿,先端尖,齿尖而细;树形直立,冠较开张,长势中强。