Type Image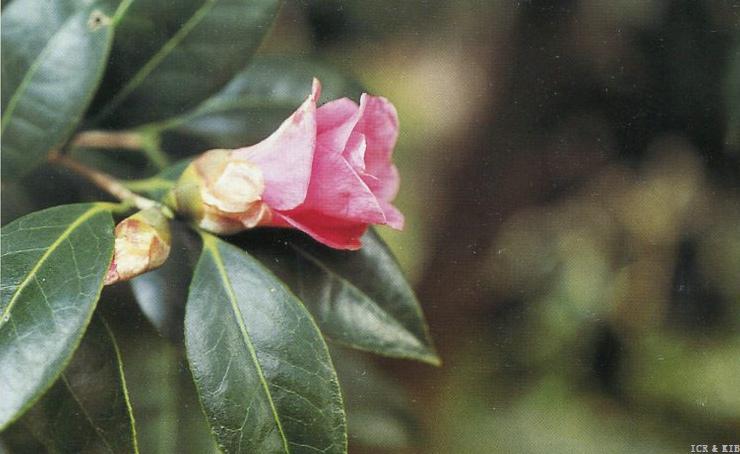 Chosen by wangzhonglang
Id:ICR-1424
Country:Japan
Year Published/Registered:1844
Cultivar Type:For Ornamental
AGM Type:
Scientific Name:Camellia 'Beni-wabisuke'
Species/Combination:Wabisuke
Chinese Name:红佗助
Japanese Name:紅佗助 べにゎびすけ
Meaning:Red "Wabisuke"
Synonym:
Benitakai Fendig, 1953, American Camellia Catalogue as 'Beni-takai'. A corruption of the Japanese name Beni-wabisuke.
Kochōbeni-wabisuke Tateyama Nursery Catalogue, 1957. Synonym for Beni-wabisuke.
Reticulata Campanulata Wada, 1941, Japanese Garden Treasures p.27. Synonym for Beni­-wabisuke.
Wabisuke Red A.J. Mackie Nursery Catalogue, 1962, p.5. Synonym for Beni-wabisuke.
红佗助 杨绍溥,1978,台湾茶花,p.70, No.115.
» English Description
Uesa, 1844, Sōmoku Benran; Note: This describes it as Red, small, with white spots and seems to be a synonym for Kochō-wabisuke. asuya Kamegorō, 1859, Tsubaki Irohanayose Irotsuki in section on early flowers, refers to the modern Beni-wabisuke. Itō, Ko'emon, 1879, Chinkashū: Rose red, small tubular single. Early to mid­season flowering. For colour photo see: Tuyama, 1966, Camellia Cultivars of Japan, pl.224, p.394; Encyclopedia of Camellias in Colour, vol.I, 1972, pl.460, & p.361; Seibundō Shinkōsha, 1979, Senchinshū, p.136: Small column of retrogressive stamens. Leaves long-elliptic, medium to small, dark green, 8-10 cm long x 3-4 cm wide. Habit bushy and luxuriant. For colour photo, botanical drawing and description see: Kirino Shūhō, 'Wabisuke Group', 1982, Kyōto Engei Kurabu, Tsubaki Tokushū, No.11, p.35, 37, 39. See Yokoyama & Kirino, 1989, Nihon no Chinka, p.160, colour photo. Synonym: 'Wabisuke Red'. Resembles Kanzaki-aka-wabisuke. Origi­nated in Kantō District, Japan.
» Chinese Description
朱國棟、蔡燦玉,2011. 《台灣茶花族譜》,p.26.
Beni-wabisuke 红佗助(Red Wabisuke) 。(Wabisuke) 佗助 。 1879,日本关东 。单瓣、筒形、红〜桃红色、小轮、花期12~2月、树性横张。同种异名:Wabisuke Red。
红佗助一杨绍溥,1978,台湾茶花,p.70, No.115.