Type Image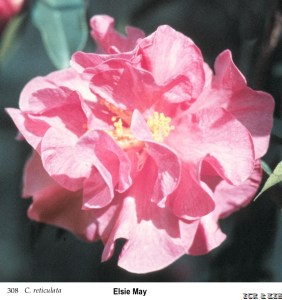 Chosen by wangzhonglang
Id:ICR-4781
Country:Australia
Year Published/Registered:1984
Cultivar Type:For Ornamental
AGM Type:
Scientific Name:Camellia reticulata 'Elsie May'
Species/Combination:C. reticulata
Chinese Name:六朝金粉
Japanese Name:
Meaning:
» English Description
ACRS., 1984, Camellia News, No.91, p.22, Reg. No.308: Originated by T.E. Pierson, Hurstville, N.S.W., Australia from a seedling of C.reticulata 'Cornelian' (Damanao) x Buddha, that first flowered 1981. The semi-double to informal double, 14 cm x 8 cm, salmon pink flowers, with distinct rabbit ears, are produced mid-season to late. The open, upright plant has mid-green, narrowly-ovate, reticulate, 13.8 cm x 5.5 cm, leaves.
» Chinese Description
朱國棟、蔡燦玉,2011. 《台灣茶花族譜》 p.87. Elsie May 六朝金粉(C. reticulata)云南茶。1984,澳大利亚 NSW ' Hurstville ' T.E. Pierson 培育选出。Cornelian (大玛瑙)x Buddha (佛陀)。初花1981年。半重办~牡丹形、橙粉、具兔耳瓣、巨大(14 x 8cm)、花期1~3月、树性直立~横张。花名:人名(艾尔西.梅}。Elsie May (六朝金粉)一茶花林目录,1992-2006, p.9/28, No.69.