Type Image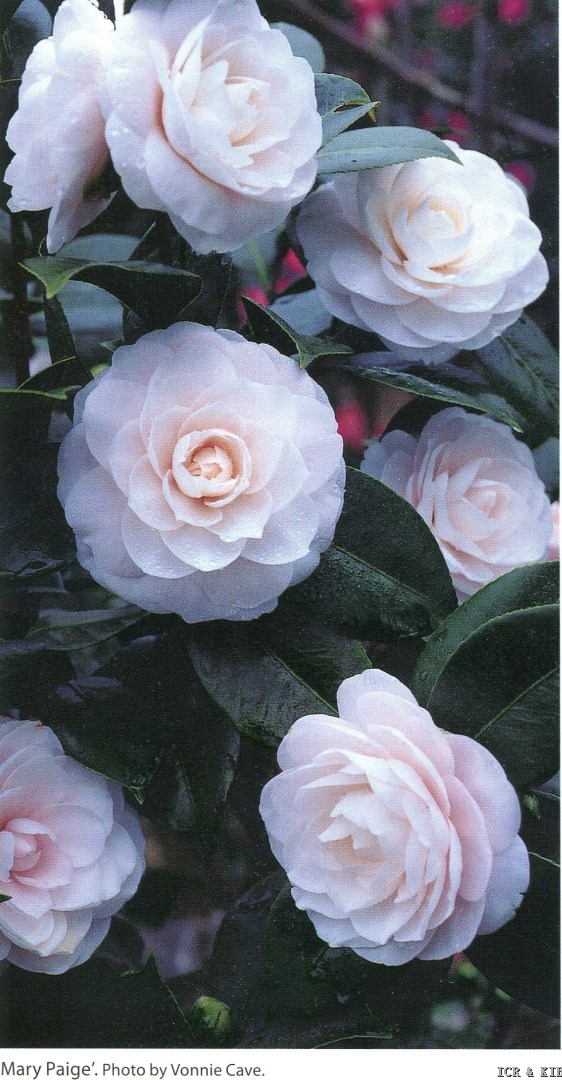 Chosen by wangzhonglang
Id:ICR-12118
Country:United States
Year Published/Registered:1965
Cultivar Type:For Ornamental
AGM Type:
Scientific Name:Camellia japonica 'Mary Paige'
Species/Combination:C. japonica
Chinese Name:韩国夫人
Japanese Name:
Meaning:
Synonym:
Malimeiqi Gao, Jiyin, Ltr 5th August 1992. Chinese synonym for the USA C.japonica Mary Paige.
Mary E.M.Paige Hazlewood & Jessep, 1972, Checklist - Camellia Cultivars from Nursery Catalogues, p.152. Synonym for Mary Paige.
韩国夫人 茶花林目录,1992-2006, p. 17/28, No.451.
» English Description
American Camellia Yearbook, 1965, p.241, Reg. No.798; Colour pl. facing p.180: An 8 year old chance seedling that first bloomed 1962. Originated by Harold L. Paige, Lafayette, California, USA. Plant growth is upright, dense, sturdy and medium with dark green leaves, 11 cm x 7.5 cm. The formal double flowers measure 10.5 cm. across x 4 cm deep with 60 petals. Very old flowers show a few stamens after bud centre stage is over. Colour is a soft, shaded pink, Blooms mid-season to late. Colour pl. frontispiece, New Zealand Camellia Bulletin, 1983, vol.XIII, No.2. Synonym 'Mary E.M. Paige'.
» Chinese Description
朱國棟、蔡燦玉,2011. 《台灣茶花族譜》,p.178.
Mary Paige 韩国夫人(C. japonica)红山茶。1965,美国加州 Lafayette,Harold L. Paige 培育选出。8年自然实生苗,初花1962年。完全形、柔粉色、迷你(4~5x4cm)、花瓣约60枚、花期1~3月、花季末期花心会有少量雄蕊露出、树性直立、浓密、长势强。同种异名:Mary E.M. Paige。花名:人名(玛丽.佩姬)。
Mary Paige (韩国夫人)—茶花林目录,1992-2006, p. 17/28, No.451.