Type Image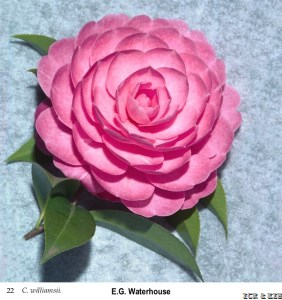 Chosen by wangzhonglang
Id:ICR-4565
Country:Australia
Year Published/Registered:1946
Cultivar Type:For Ornamental
AGM Type:
Scientific Name:Camellia 'E. G. Waterhouse'
Species/Combination:C. williamsii
Chinese Name:沃特豪斯
Japanese Name:E.G.ウォ-タ-ハウス E.G.うぉ-た-はうす
Meaning:
Synonym:
Professor E.G. Waterhouse NCCS., 1955, Bulletin. Synonym for E.G. Waterhouse.
Professor Whithouse Abbotsbury Gardens Catalogue, 1974 as 'Prof. Whithouse'. Orthographic error for E.G. Waterhouse.
W.G. Waterhouse Mark S. Cannon, Scion Catalogue, 1962, p.11. Orthographic error for E.G. Waterhouse.
Wotehaosi Gao, Jiyin, Ltr, 31 July 1990. Chinese synonym for the Australian C.x williamsii E.G. Waterhouse.
» English Description
Hazlewood, 1955, American Camellia Yearbook, p.70: One of his seedlings is a formal double pink that shows more of the characteristics of its C.japonica parent but has C.saluenensis foliage. This plant has been named for himself E.G. Waterhouse. ACRS., 1957, Camellia Annual, No.4, p.7, Reg No.22: A C.x williamsii hybrid raised by E.G. Waterhouse in 1946. Flower formal double with many rows of petals, beautifully imbricated. Colour Fuch­sine pink, RHS.621/2. Foliage malt green and closer to japonica than saluenensis. Mid-season to late flowering. This cultivar won the "Edward H. Metcalf Award" for 1962 and the "National Camellia Hall of Fame Award" in 1978. See colour plates p.50, Macoboy, 1981, The Colour Dictionary of Camellias and on front cover ACRS, 1976, Camellia News, No.62. Orthographic error: 'W.G. Waterhouse'. A variegated form is named E.G. Waterhouse Variegated. Chinese synonym: 'Wotehaosi'.