Type Image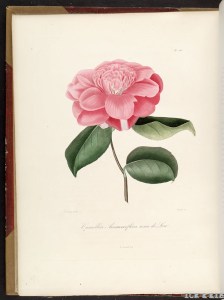 Chosen by Gianmario Motta
Id:ICR-420
Country:United Kingdom
Year Published/Registered:1830
Cultivar Type:For Ornamental
AGM Type:
Scientific Name:Camellia japonica 'Anemoniflora Rosea'
Species/Combination:C. japonica
Chinese Name:
Japanese Name:
Meaning:
Synonym:
Anaemoneflora Rosea Trillon, Le Mans Nursery Catalogue, 1843, p.3. Orthographic error for Anemoniflora Rosea.
Anemona Warrata Rosea Berlèse, 1837, Monographie, ed.1, p.92. Synonym for Anemoniflora Rosea.
Anemonae Warrata Roseii Fendig, 1953, American Camellia Catalogue, Synonym for Anemoni­flora Rosea.
Anemonaeflora Pink Blakedown Nurseries Ltd. Kidderminster, Catalogue, 1962-1963, p.7. Syn­onym for Anemoniflora Rosea.
Anemonaeflora Rosea J.E. von Rieder, 1834, Die Beschreibung und Kultur der Azaleen, Cactus, Camelien., p.218 as 'Anem. Fl. Roseo': Verschaffelt Catalogue, No.50, 1844, p.118. Orthographic variant for Anemoniflora Rosea.
23 show +
» English Description
Loddiges Catalogue, 1830, p.21: Originated by the nurseryman Low, England. A rose pink to red, Medium size, anemone form similar to Anemoniflora. Berlèse, 1843, Iconographie, vol.3, pl.216 as 'Anemonaeflora Rosea de Low': Flower 9-10 cm across, irregular, full, of a spherical form, pure cherry-red carmine, sometimes tinted. The out­side petals in 2 rows, are ample, long, obtusely notched, horizontally imbricated and veined; those of the interior are in keeping, but smaller, innumerable, serried and in a spherical cluster. The name was erroneously used in Australia as a synonym for Speciossissima. It was also invalidly used by Negri, Milan, Italy in 1843, for one of his seedlings. Orthographic variants: 'Anemone Warrata Rosea', 'Anemoneflora Rosea', 'Rose Waratah', 'Anemonaeflora Rosea de Low'. 'Anemonae Warrata Roseii', 'Anemonaeflora Rosea'. 'Anemonae Rose', 'Anaemone­flora Rosea', 'Warratha Roses', 'Waratah Rosea'.